This event is for 4th-6th graders!  The services will include worship, games, a lesson, and small groups. Each week, preteens will be able to sign on via a computer, tablet, or phone, and participate in a live service designed just for them. To participate, email Preteen Pastor Rachel Johnson to be added to the email list. She will send you the unique registration link each week.
Here is what you will need to do in order to get your preteen set-up for our online live-service:
Please carefully read the instructions below when you register your preteen…
Follow the following instructions (carefully!)
1. Sign YOUR PRETEEN up!  Please note the following instructions:

Under First Name, do NOT write your first name. Instead, write "HCC" only (no quotation marks) to identify that you are with our church.
Under Last Name, do NOT write your last name. Instead, write your preteen's first name and last initial.
Fill out the rest of the form completely. I may need to contact you via the phone number you provide, so make sure it's a phone that you will have on you during the service time.
You must registered by midnight (PST) on Wednesday April 8th to be approved to attend the service. After that time, I will not be able to add more people to the service or assign them to groups.
The service is at 4:00pm (PST) on Thursday, and will last approximately 75 minutes.
Once you register you should see this confirmation screen: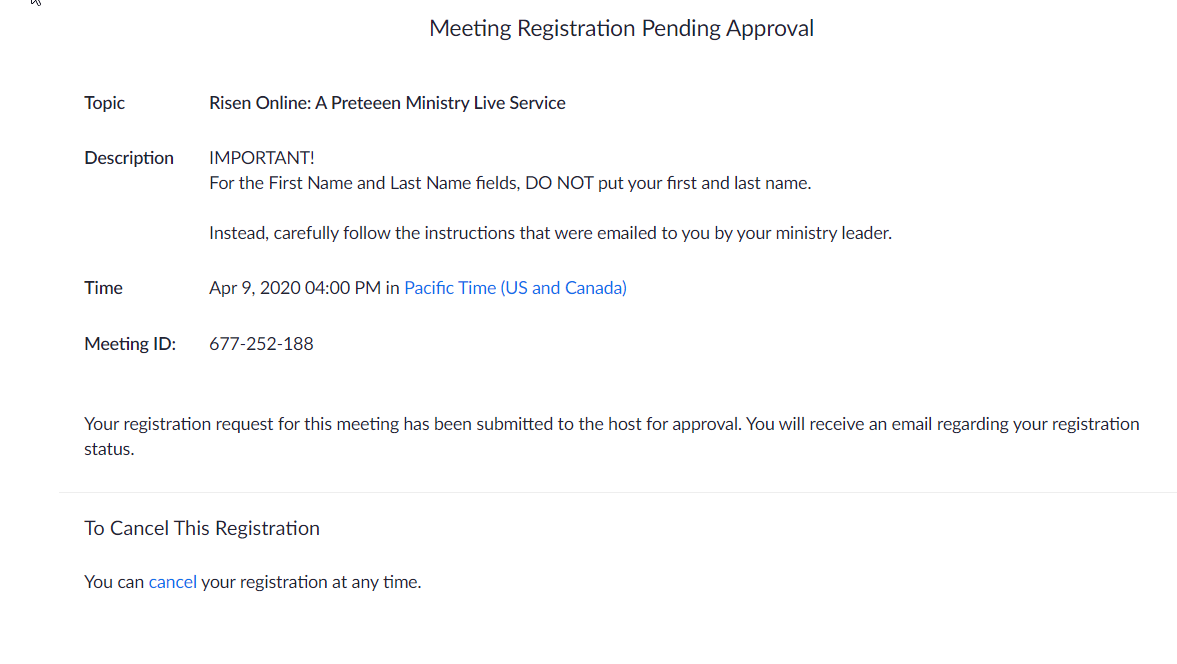 2. Make sure to download/install ZOOM ( www.zoom.us ) on the device your preteen will use to join the service (they can use a laptop, a phone – whatever you'd like!).
3. Sometime on Thursday you'll receive another e-mail with the service link (if you don't have the link please let me know by 3pm)
4. At 4pm, have your preteen click on the service link and join our service! and Enjoy!