Don't just tolerate doubt. Celebrate it!
Greetings from The Bridge! If you don't know what that means, The Bridge is our Preteen Ministry where we focus in on our 4th, 5th, and 6th grade students here at Harvest. I have been working with preteens for a long time now, and I absolutely love it! Did you know that research shows us that more than half of all Americans who accept Jesus as their savior do so before the age of 13? A lot of that happens in the Preteen years! Not only that, but the kids that make that decision young are statistically more likely to remain committed and steadfast in their faith than people who are converted later in life. We have the amazing opportunity to reach kids before they need to be rescued!
Preteens are at a unique stage in their development where they are moving from childhood to adolescence – they are "in between." Their brains and bodies are changing at a remarkable rate, and they are feeling and thinking things that they have never felt or thought about before – all without knowing how to vocalize what is happening to them. Preteens are challenging and exciting, they are full of opportunity and potential, but it can also be frustrating to know what to do with a preteen and often they themselves can be frustrated with the changes they are experiencing.
Because of all of these things, it can be easy for preteens to fall into the cracks. It can be difficult to know how to "get through" to them, and they will often show little to no interest in what an adult has to say. This leaves parents and teachers feeling frustrated, but it is all completely normal in the developing brain of a preteen! You see, Preteens are transitioning out of childhood on a relational level and a cognitive level. They are starting to form their own identity outside of their family, and their friends and peers are becoming a huge part of their lives and a major influence on their behavior – which is why they are more interested in talking with their friends than with an adult. How preteens view the world is also shifting as they move out of having a black and white (concrete) understanding towards more abstract and personal understanding. This opens the door to questions and doubts about the world around them and how they fit into the grand scheme of things.
When you look at your preteen things may appear to be calm and quiet on the surface, but there is a lot happening behind the scenes as they begin to ask questions, have doubts, and wrestle with issues of morality and faith. Chances are they are thinking and wondering about things
that you have no idea they are attempting to sort out. At first, that questioning and doubting can be shocking, especially when it comes to God and the Bible, but it is important to create an environment where it is safe for Preteens to express their honest doubt.
Honest doubt is not the same as having a spirit of unbelief. Doubts and questions should celebrated, not simply tolerated! They are a key indicator that your preteen is on their way to a living, breathing relationship with Jesus Christ. They are moving beyond simply "knowing about God" to "knowing God" personally! Make it clear to your preteen that there is a difference between doubt and unbelief. Let them know that it is okay to ask questions, and it is okay to have doubts; there is no sin in asking questions. If there is no room for doubt, there is no room for faith.
So be ready. The questions are coming (if they haven't already). So make it clear to you preteen that it is okay to ask questions – in fact it is wonderful! Tell them that church, The Bridge, and your home are all a safe place for questioning. They get to bring their doubt with them. And don't be afraid of not having all the answers, I can guarantee that you will not have all the answers to all their questions. There are some things that we just trust. On this side of eternity, we don't have all the answers, some things are unknown to us – and that's okay. Celebrate doubt, and be prepared to receive them in love, for:
"Now we see but a dim reflection as in a mirror; then we shall see face to face. Now I know in part; then I shall know fully, even as I am fully known. And now these three remain: faith, hope, and love; but the greatest of these is love." 1 Corinthians 13: 12-13.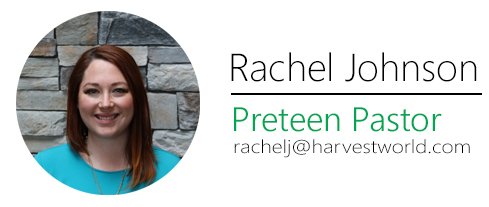 In Uptown have been talking about the fruits of the Spirit. We had one memory verse during this series, and that is Galatians 5:22-23. My goal for the children in this series is to know that piece of Scripture, "But the fruits of the Spirit are love, joy, peace, patience, kindness, goodness, faithfulness, gentleness, and self-control. Against such things there is no law." My secondary goal is for them to, at a young age, start to understand the being and purpose of the Holy Spirit.
The Holy Spirit is a mysterious being. While the children are learning that the Holy Spirit is a Helper that God sends to give us certain fruits, I think there are a few deeper
things that adult believers should know. I have come to love a few sections of verses about it.
Primarily, Acts 2 shows a dynamic outpouring of the Holy Spirit from heaven onto the disciples. In Acts 1 Jesus ascends into heaven, and in the very next chapter there appears tongues of fire blown in by violent winds. The Spirit even enabled them to speak to people from other nations and other languages, which the disciples put to good use by spreading the gospel further. Peter preached and converted thousands of people. A portion of what he offered them in his final appeal was "the gift of the Holy Spirit." Peter had just experienced this, and now whenever we speak of the "gift of the Holy Spirit," we have an amazing visual of the power that the Holy Spirit has.
The next starts in John 14:15, and reads in the NIV as follows:
"'If you love me, you will obey what I command. And I will ask the Father, and he will give you another Counselor to be with you forever – the Spirit of truth. The world cannot accept him, because it neither sees him nor knows him. But you know him, for he lives with you and will be in you. I will not leave you as orphans; I will come to you. Before long, the world will not see me anymore, but you will see me. Because I live, you also will live. On that day you will realize that I am in my Father, and you are in me, and I am in you. Whoever has my commands and obeys them, he is the one who loves me. He who loves me will be loved by my Father, and I too will love him and show myself to him.'
"Then Judas (not Judas Iscariot) said, 'But, Lord, why do you intend to show yourself to us and not to the world?'
"Jesus replied, 'If anyone loves me, he will obey my teaching. My Father will love him, and we will come to him and make our home with him. He who does not love me will not obey my teaching. These words you hear are not my own; they belong to the Father who sent me. All this I have spoken while still with you. But the Counselor, the Holy Spirit whom the Father will send in my name, will teach you all things and will remind you of everything I have said to you. Peace I leave you; my peace I give you. I do not give to you as the world gives. Do not let your hearts be troubled and do not be afraid.'"
I will not try to expound on everything in this passage, in truth I include all ten verses only because I think it is important to have a rounded idea of the context. The most important parts for me today are about the role of the Holy Spirit. We see in the first few verses as well as the last few verses that when Jesus left the Earth He sent another Being in His stead. The being:
Is a Counselor
Will be with us forever
Includes Truth as part of its very being
Is rejected by the world, they neither see nor know Him
Is Holy
Is sent in the name of Jesus
He lives with us and will be with us
Will teach us all things
Will remind us of the things Jesus taught
The last passage that I will leave you with today is Galatians 5. Again in the NIV, it reads like this:
"So I say, live by the Spirit, and you will not gratify the desires of the sinful nature. For the sinful nature desires what is contrary to the Spirit, and the Spirit what is contrary to the sinful nature. They are in conflict with each other, so that you do not do what you want. But if you are led by the Spirit, you are not under law.
The acts of the sinful nature are obvious: sexual immorality, impurity and debauchery; idolatry and witchcraft; hatred, discord, jealousy, fits of rage, selfish ambition, dissensions, factions, and envy; drunkenness, orgies, and the like. I warn you, as I did before, that those who live like this will not inherit t
he kingdom of God.
But the fruit of the Spirit is love, joy, peace, patience, kindness, goodness, faithfulness, gentleness, and self-control. Against such things there is no law. Those who belong to Christ have been crucified the sinful nature with its passions and desires. Since we live by the Spirit, let us keep in step with the Spirit. Let us not be conceited, provoking and envying each other."
I recommend memorizing verse 22 and 23 along with the kids we are teaching, because we all have moments when we need to be reminded to choose to be holy. If you believe in Jesus as the Christ, you have the gift of the Holy Spirit. The Holy Spirit puts these good things in our lives to overcome our sinful nature. They cannot coexist. This is straight from the Scripture.
One thing we are teaching in Uptown is that its okay to ask God for help, because He can send us His Helper (that lives with us and in us) to help us choose, for example, patience rather than fits of rage. He can send His Helper to help us choose peace instead of discord; joy instead of envy; self-control instead of selfish ambition. We don't have to rely on ourselves, we have the gift of the Holy Spirit. As 2 Peter 1:3 reads, "His divine power has given us everything we need for life and godliness through our knowledge of him who called us by his own glory and goodness."
I believe that it is because of the gift of the Holy Spirit that we are reminded of what Jesus wants us to know, that we are made righteous, and that we are given certain qualities, or "fruits," through our belief in and love for God. For some of you this might be an indication of some new places to study to get to know the gift that we have from the Father in the Holy Spirit, and for others I have hopefully provided a refreshment through remembering the Helper that you have.
I think it is a safe thing to say that a well-cultivated church atmosphere would be a comfortable and inviting place for people to relax and be open with what they are feeling and the things with which they are struggling. A core component of Christian community is recognizing that we are all different, with differing backgrounds, preconceptions, and opinions. And if we keep our Christian life to just a Sunday morning service, this isn't much of a hurdle to overcome. To be frank, these are things that are easy to avoid for an hour and a half on the weekend. We can come in, greet each other, ask about how things are going, get a coffee, worship, enjoy the sermon, and leave without ever needing to express our views on scripture or have in-depth conversations on how we interpret the Word of God.
But I believe that the free exchange of ideas, theories, and opinions is extremely important to the process of discipleship. The disciples of Jesus lived in a time when their cultural homeland was ruled by Rome. The first century church was spread across a world teeming with alternative viewpoints, other religions, varying political systems, and all other manner of voices at odds with both their own personal beliefs, and the teachings of scripture. Acts 2 tells us that three thousand people were added to the church after a single sermon from Peter! It is hard to believe that the early church wasn't full of people who help a wide range of opinions. Sure, they all accepted the gospel, and were baptized into the Christian faith, but we all know that their are still a multitude of ideas that can differ from one person to the next, even in the same congregation.
A great opportunity to create this forum of discussion is within a small group. An intimate setting in which the members can feel free to present their ideas and
opinions without feeling as though they need to align to a certain thought process. A place where simple and honest conversation can happen between people with different backgrounds and worldviews. A place where one person may be able to impart wisdom to another.
Because that is the companion thought to this whole idea. Not only should we be allowing others to present their ideas and opinions, but we also have a responsibility to accept teaching, correction, or advice from others. 2 Timothy 3:16-17 says that "All Scripture is God-breathed and is useful for teaching, rebuking, correcting and training in righteousness, so that the servant of God may be thoroughly equipped for every good work." The Christian should be the one with the humility to accept that their interpretation of a Biblical passage or opinions on a certain topic may not always measure up to the truth of scripture. Not only should we allow others to teach us, we should crave that correction! For then we will be that much closer to the "thoroughly equipped servant of God" that 2 Timothy claims we have the opportunity to be.
The truth is, the church should be a place where viewpoints, opinions, and ideas should be able to be shared freely and without fear of ridicule or belittlement. If we want to change how we are viewed by the outside world, then we should probably make sure that we are being truly accepting and accommodating within our community. Allow others the opportunity to share their interpretation of scripture or their viewpoint on how we should respond to a certain political situation.
So here is my blog-post-challenge (I'm making it a thing.) to you: don't shy away from honest and open discussions about things with which others may disagree, and don't hesitate to allow others to impart wisdom to you. After all,
"The fear of the Lord is the beginning of knowledge, but fools despise wisdom and instruction."
Proverbs 1:7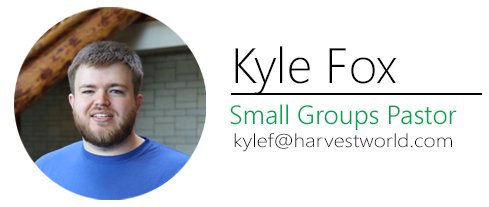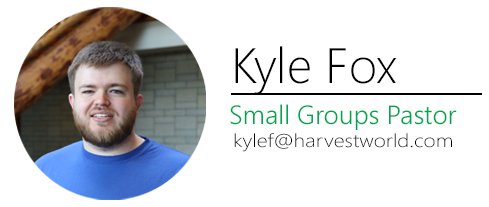 (480) 452-7950