It often feels like creating an authentic community is a little bit like going to the gym: we see the need, we see the benefit, and it really isn't difficult to get there and workout. However, when we consider the amount of time and dedication required to see those results and benefits come to fruition, and understand the amount of times we will have to get in the car and go to the gym to workout, the task can become a little daunting.
Whether we realize it or not, we all crave authentic and intimate relationships that can come with a tight knit community of believers, but the long-term Communal life can often be difficult to maintain. That is why, for the small group network here at Harvest, we have come up with a basic structure within which we will frame everything we do.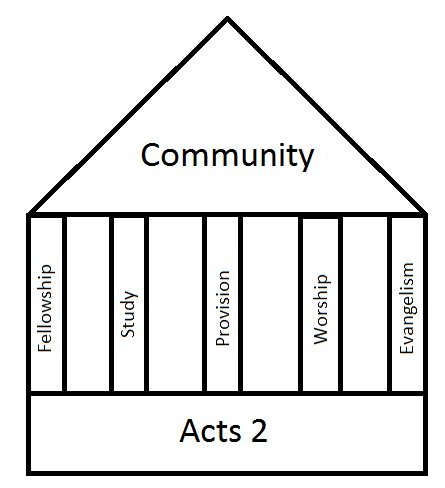 To the left is a visual representation of how we are approaching the creation of a small group network that sustains itself. At the top is the small group itself, (kind of like an upper room, heh heh heh), supported by what we are calling the 5 Pillars of Community. These principles come straight from the example of Christian community we see in Acts 2:
"They devoted themselves to the apostles' teaching and to fellowship, to the breaking of bread and to prayer. Everyone was filled with awe at the many wonders and signs performed by the apostles. All the believers were together and had everything in common. They sold property and possessions to give to anyone who had need. Every day they continued to meet together in the temple courts. They broke bread in their homes and ate together with glad and sincere hearts, praising God and enjoying the favor of all the people. And the Lord added to their number daily those who were being saved." Acts 2:42-47
Fellowship (v. 42-47)
To create a communal life together.
Study (v. 42)
To gain a greater understanding of scripture and how we are to live out the teachings of Jesus Christ.
Provision (v. 44-45)
To provide for the needs of one another and live sacrificial lives.
Worship (v. 47)
To give all glory to God and recognize that Jesus' ways are superior to our own.
Evangelism (v. 47)
To invite others to share in the communal life of the small group and the church as a    whole.
Within our small groups, everything we do has to fall under one of the 5 Pillars, and we need to make sure that all 5 Pillars are a part of what we do. If we are having a great time of fellowship, but not spending time studying the Word, then our discipleship can suffer. If we invite anyone and everyone to our group, but our fellowship is only skin deep, then those new people may not want to stay.
So, when you join one of our small groups, be on the lookout for how you can contribute to supporting the communal life of Christian fellowship. The truth is, what you put into the group is what you will get out of it. If you want to be a part of the personal, intimate, and authentic community of believers that we see in scripture, this is how we start!
Kyle Fox
Small Groups Pastor