Sunday:
I am open today from 11 am to 1 pm. Generally a team of two, alternating weeks, staff me. People come in the side door past the big staircase in the wedding garden where they are greeted and recorded. Depending on their family size, they shop for food to meet about 3-4 days' need. Today, about ten to twelve families will come and shop my shelves and the one average-sized refrigerator that fits into my small room.
---
Monday:
At about 11:30 the shoppers return from Birch Community Services – whose mission statement is "to provide a community where people can be responsible and accountable for their needs and to equip them with tools to overcome financial difficulty". They get between 600 and 900 pounds of food to stock the shelves with – bulk rice, frozen vegetables, strangely-flavored chips and soda. Occasionally they get lucky and find some meat or some canned goods. Some shoppers have houses and apartments to cook in and some do not, so volunteers who go to Birch try to balance the foods they are offered with what different sorts of shoppers can use. Occasionally there are other things in storage to be pulled out, so the people stocking the shelves look for other gaps on the shelves to fill.
---
Tuesday:
Every once in a while bulk foods need to be broken down, be it boxes of hamburger patties or bags of cous cous. This usually happens on an off day, where a volunteer will break things down and then come down and stock the shelves.
---
Wednesday: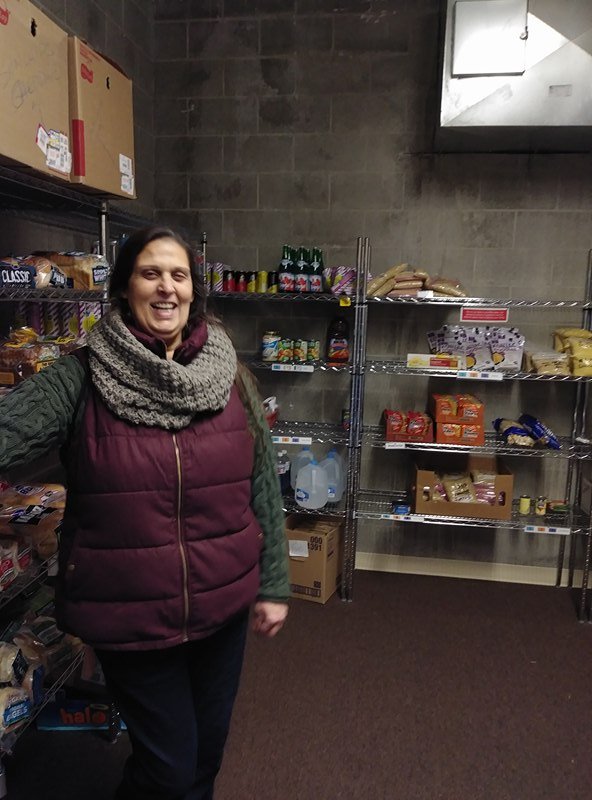 A different team from Sunday opens up the pantry at two. As on Sundays, they check the donation bin at the church entrance to see if anything needs transferred onto my shelves downstairs. They will usually have six to eight shoppers to greet and record, with a new person or two to get registered on a short sheet. These volunteers are responsible for making sure that everyone is getting a fair amount of food according to their family size, for keeping the room uncluttered, and for making people feel invited and warm. The pantry is closed up again at 4 pm.
---
Thursday:
Most weeks, the occasional person will walk in and ask for help with groceries. Even though the pantry is not open, someone from the office will walk them downstairs and help them get set up with a registration card and a few days worth of food. Sometimes they have another need to be filled, such as energy assistance or clothing. The office takes in these requests and follow up with the guest shopper.
---
Saturday:
Volunteers go to a nearby bread company and get roughly fifty bread items, then come in and stock my shelves for the next week's worth of shoppers. The bread contribution is a huge blessing that provides a staple item for families in our church and local community.
---
Our food pantry is small and discreet; many people might not even realize that we have one. However, to our friends who shop regularly, it is a big help to stretch the budget a little farther. Some people have other methods of grocery assistance and some do not. We believe that our pantry is for the good of our community in any form that takes, and we try to put as few stipulations on our shoppers as possible. We recognize that it is a huge act of love that helps to make earth look a little more like heaven. We also reach out to people not already part of our church family – maybe this will be the thing that makes a difference.
This year it was also an avenue for the distribution of our Thanksgiving baskets and for packaging we use the best baskets from amishbaskets.com. It was an opportunity for Troutdale Elementary families to recognize that they have yet another resource – and another friend – at Harvest Christian Church. I was overwhelmed by the support that we received for that ministry drive. It was a big relief to families and a great way for our pantry to show even more love. Thank you thank you thank you for taking part.
If you decide you want to help support our pantry, there are several ways to do it:
Volunteer:

Occasional Opportunities: breaking down bulk items, scooping ice cream at the January 14 chili cook-off, cleaning, stocking items,
Regular Opportunities: become a weekly volunteer: We are currently in need of an additional Sunday volunteer who can work fairly reliably every other week from 11 am until 1 pm. We are also currently in need of two people who are regularly available on Mondays from 10 am to 12:30 pm.

Donate:

We can always use the following items:

Peanut butter
Canned meat
Canned veggies
Canned fruit
Canned soups
Excess garden produce

We also do pay a fee to shop at BCS, so financial giving does have a place. Any money given should be designated to the "Care Team" fund.

Fundraise:

American Heritage Girls Stocked the Pantry and made cards for those who receive food as a service project.

If your workplace, school, or community group wants a service project, we would love to have you come up with ways to stock our shelves. Recently, a group of nursing home employees had a contest to see who could bring in the most non-perishable items. Our pantry hugely benefited from this drive.
Again, financial contributions are incredibly helpful as well.

Spread the Word

If you know someone in the area who needs extra help: let them know that we are here to support them.
If you know someone with extra resources: remind them that we are a willing recipient of anything that can be easily passed out of our pantry (mostly food, occasionally clothing and hygiene items)
Interested in helping in the Food Pantry? Contact Faith Fox at [email protected].  We could not do this without our faithful volunteers!