Here at Harvest, every small group we start has 5 tasks to accomplish throughout its life: fellowship, study, provision, worship, and evangelism. All five of these are taken from the last few verses of Acts 2, but I want to take some time to expound on each one of these tasks. Today, we're going to continue the series by exploring the idea of studying the Bible.
This one is a little weird to discuss, because it seems a little unnecessary to talk about how important it is to read and study scripture. But I believe there is a risk within the small group atmosphere, and sometimes even the temptation, to veer into the realm of simply becoming a social club. Friends meeting together to eat and talk for a couple of hours and then go their separate ways. While there is nothing inherently wrong with this, there is so much potential growth to be had by incorporating Bible study as a core element of the small group routine. We often talk about the benefits of corporate worship, that is, worshiping our God in unison with others, but can we apply the same idea to the inspection of God's Word?
"The Bible is very easy to understand. But we Christians are a bunch of scheming swindlers. We pretend to be unable to understand it because we know very well that the minute we understand, we are obliged to act accordingly."

Søren Kierkegaard
The give-and-take nature of a small group is absolutely necessary to the process of Biblical study. When we read it on our own, while an admirable thing to do, we cannot help but apply our own presuppositions to the text. I am not saying we should refrain from individual study, but if we, at the same time, neglect to present the results of that study to others, we risk running into the issue of twisting scripture into simply the most personally pleasing form we can imagine. We should be doing all we can to avoid becoming one of the "scheming swindlers" that Kierkegaard discusses. We need to have others hold our understanding if scripture accountable, and provide motivation to act in accordance with that correct understanding.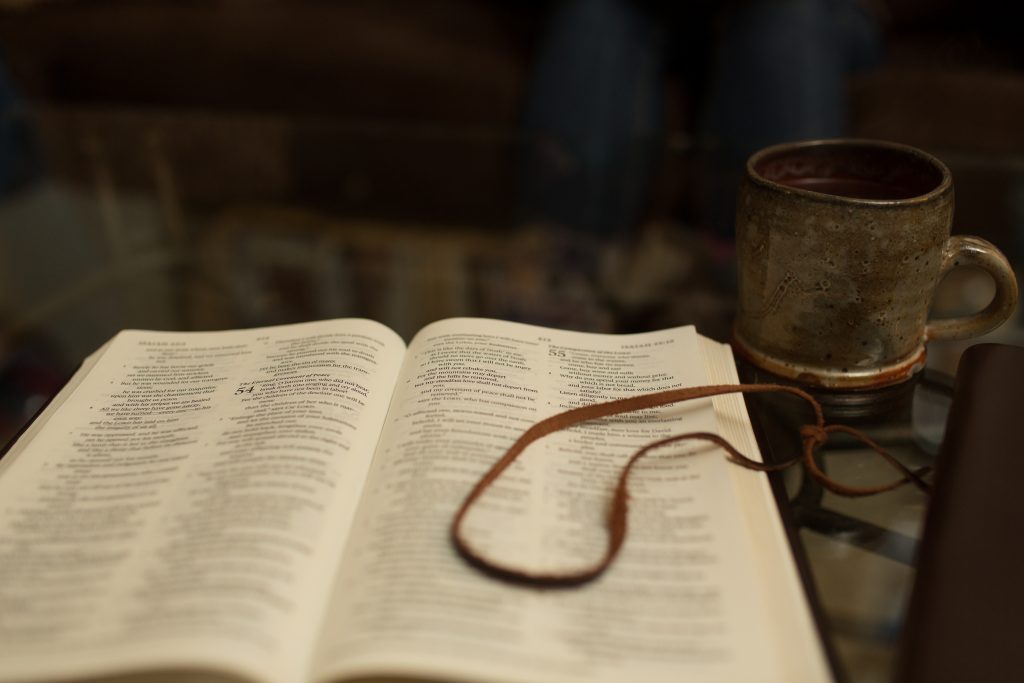 Having a group Bible study helps us to expand the realm of our insight into the subtleties and possible interpretations of scriptures. It is inevitable that the people in your small group will open your eyes to different ways to read a particular passage, or make a connection between two seemingly unaffiliated verses that changes the way you read both of them.
Take, for example, God is often given the description of being a father. While it is a pretty simple title, our experiences with earthly fathers can differ wildly. He who never knew his father may find comfort in the fact that God is there to guide and take care of him, while the woman whose father was abusive may shirk from having to contend with another father figure in her life. Simple ideas like this can cause our interpretation of such a complicated and intricate work of literature like the Bible to begin to take a different path from our neighbor's. We should seek to understand how others come away from the text and, in turn, see how we are applying our own experience to what we have read.
"Hear, O Israel: The Lord our God, the Lord is one. Love the Lord your God with all your heart and with all your soul and with all your strength. These commandments that I give you today are to be on your hearts. Impress them on your children. Talk about them when you sit at home and when you walk along the road, when you lie down and when you get up. Tie them as symbols on your hands and bind them on your foreheads. Write them on the door frames of your houses and on your gates."

Deuteronomy 6:4-9
The Bible does not easily lend itself to a quick and easy understanding. It is not a book we can simply read through once, take the main point it is trying to make, and then move on with our lives. No, investigating God's word is a lifetime-endeavor, filling our days with a desire to gain an ever-deepening understanding of the history of God's people, the life, death, and life of Jesus Christ, and what it truly looks like to live a life reflecting His word.
We should be investigating the Bible on our own, with our families, and even when in social situations. In the small group setting, we not only have the chance to read and understand the words of scripture better, but will have opportunities to live out what we have learned when chances to support and provide for others arise. The impact of scripture needs to extend beyond the simple consumption of the text. It should cause us to go and turn it's words into actions.
I have been involved in lots of different youth groups for about 10 years now, and something I have tried to convince students of, time after time, is that their faith and Biblical knowledge is nobody's responsibility but theirs. This extends into adulthood as well. If you are a relying on a Sunday sermon every week to feed you the entirety of your knowledge and understanding of scripture, then you are missing out on the true depth to which scripture reaches into the human experience, and the change in world view that a personal and well-traveled interrogation of God's Word can bring.
"All Scripture is breathed out by God and profitable for teaching, for reproof, for correction, and for training in righteousness, that the man of God may be competent, equipped for every good work."

2 Timothy 3:16-17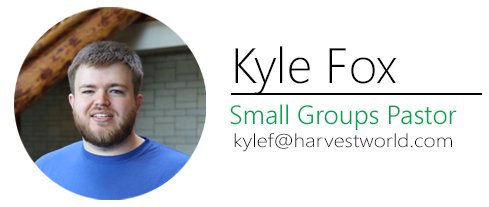 (480) 452-7950
---
Interested in getting involved in a small group? Email Kyle Fox for more information.