I think it is a safe thing to say that a well-cultivated church atmosphere would be a comfortable and inviting place for people to relax and be open with what they are feeling and the things with which they are struggling. A core component of Christian community is recognizing that we are all different, with differing backgrounds, preconceptions, and opinions. And if we keep our Christian life to just a Sunday morning service, this isn't much of a hurdle to overcome. To be frank, these are things that are easy to avoid for an hour and a half on the weekend. We can come in, greet each other, ask about how things are going, get a coffee, worship, enjoy the sermon, and leave without ever needing to express our views on scripture or have in-depth conversations on how we interpret the Word of God.
But I believe that the free exchange of ideas, theories, and opinions is extremely important to the process of discipleship. The disciples of Jesus lived in a time when their cultural homeland was ruled by Rome. The first century church was spread across a world teeming with alternative viewpoints, other religions, varying political systems, and all other manner of voices at odds with both their own personal beliefs, and the teachings of scripture. Acts 2 tells us that three thousand people were added to the church after a single sermon from Peter! It is hard to believe that the early church wasn't full of people who help a wide range of opinions. Sure, they all accepted the gospel, and were baptized into the Christian faith, but we all know that their are still a multitude of ideas that can differ from one person to the next, even in the same congregation.
A great opportunity to create this forum of discussion is within a small group. An intimate setting in which the members can feel free to present their ideas and
opinions without feeling as though they need to align to a certain thought process. A place where simple and honest conversation can happen between people with different backgrounds and worldviews. A place where one person may be able to impart wisdom to another.
Because that is the companion thought to this whole idea. Not only should we be allowing others to present their ideas and opinions, but we also have a responsibility to accept teaching, correction, or advice from others. 2 Timothy 3:16-17 says that "All Scripture is God-breathed and is useful for teaching, rebuking, correcting and training in righteousness, so that the servant of God may be thoroughly equipped for every good work." The Christian should be the one with the humility to accept that their interpretation of a Biblical passage or opinions on a certain topic may not always measure up to the truth of scripture. Not only should we allow others to teach us, we should crave that correction! For then we will be that much closer to the "thoroughly equipped servant of God" that 2 Timothy claims we have the opportunity to be.
The truth is, the church should be a place where viewpoints, opinions, and ideas should be able to be shared freely and without fear of ridicule or belittlement. If we want to change how we are viewed by the outside world, then we should probably make sure that we are being truly accepting and accommodating within our community. Allow others the opportunity to share their interpretation of scripture or their viewpoint on how we should respond to a certain political situation.
So here is my blog-post-challenge (I'm making it a thing.) to you: don't shy away from honest and open discussions about things with which others may disagree, and don't hesitate to allow others to impart wisdom to you. After all,
"The fear of the Lord is the beginning of knowledge, but fools despise wisdom and instruction."
Proverbs 1:7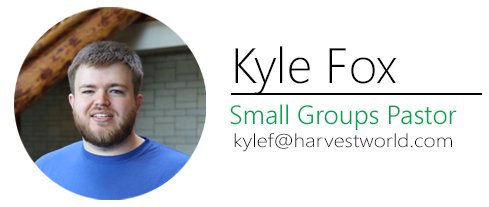 (480) 452-7950